Participants: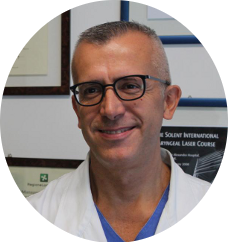 Prof. Roberto Puxeddu
Full professor of Otorhinolaryngology and Chairman of the Section of Otorhinolaryngology, University of Cagliari School of Medicine. Director of the School of Specialization in Otorhinolaryngology, School of Medicine, University of Cagliari, Italy. Honorary Consultant Otorhinolaryngologist, Head and Neck Surgeon at the Portsmouth Hospital Trust, UK. In the past post-graduate doctor residency at the Institute of Ear Nose and Throat Clinic at Brescia University, Italy. Post-graduate diploma in Otorhinolaryngology from the University of Brescia (Dissertation Laryngeal and laryngotracheal stenoses: classification and therapeutic problems) with full marks (50/50) cum laude.
Brilliant surgeon in laryngological pathology.
Back