5th European Laryngological
Live Surgery Broadcast
27th November 2019 | 9.00 - 16.00 CET (GMT+1)
Thank you once again for being with us during the 4th European Laryngological Live Surgery Broadcast in 2018.
Please find some information regarding our event.
18 surgeries were presented in different pathologies:
the laryngeal cancer - 8 cases treated endoscopicly by the CO2 laser including robotic system

total laryngopharyngectomy with pectoral flap

papillomatosis of the larynx

different phonosurgical procedures
The session was attended by 30 000 - 40 000 viewers from 91 countries. Please find therefore the exact list (the countries are listed in order of the amount of viewers, the first being the highest):
Poland, Germany, Italy, Netherlands, China, Brazil, Russia, Ukraine, United States, United Kingdom, Spain, France, Pakistan, India, United Arab Emirates, Lithuania, Malaysia, Turkey, Argentina, Singapore, Mexico, Saudi Arabia, Syria, Panama, Austria, Croatia, Slovakia, Bulgaria, Norway, Iraq, Romania, Sweden, Czechia, Belgium, Timor-Leste, Israel, Macedonia (FYROM), Belarus, Cyprus, Ecuador, Egypt, Finland, Canada, Greece, Hungary, Nicaragua, Peru, Portugal, South Africa, Afghanistan, Bahrain, Switzerland, Hong Kong, Honduras, Ireland, Kuwait, Latvia, New Zealand, Oman, Serbia, Burkina Faso, Estonia, Jordan, South Korea, Lebanon, Sri Lanka, Bangladesh, Myanmar (Burma), Mongolia, Palestine, Armenia, Botswana, Chile, Costa Rica, Denmark, Guatemala, Japan, Venezuela, Australia, Bosnia & Herzegovina, Bhutan, Belize, Colombia, Dominican Republic, Kenya, Luxembourg, Morocco, Paraguay, Qatar, Taiwan, Uzbekistan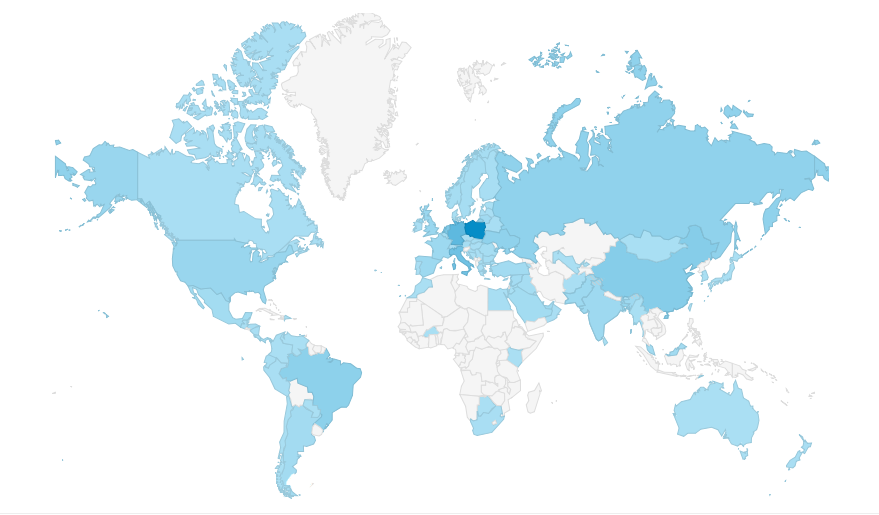 In this map of the world you can find all countries:
from light blue to dark blue - different colors according to the amount of viewers

white - no viewers
We look forward to seeing you in November 2019.